Air Brush Tattoos (First 2 Hours)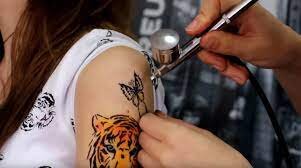 $389.00
Please call (763) 329-4158 to reserve this item

Description
Air Brush Tattoos in MN
Jump City caricature artist provides you different ways to bring something colorful and 3D to any type of party. Be it art, sculptures, Balloon Twisting/ Animals, Arches or Columns in Minneapolis, MN. Contact us today for more information!
Simple fun options provide the caricature experience with designs such as the traditional Dog, flower, hats,
swans, swords and other 1-2 balloon twists for events with a lot of people and a little time or someone on a budget.
Advanced deluxe options: Allows you to choose from the simple stuff to the complicated fancy stuff. Like the
octopus, fishing poles, working crossbows, unicorns detailed King/ Queen scepters and more. Great for all types of events.